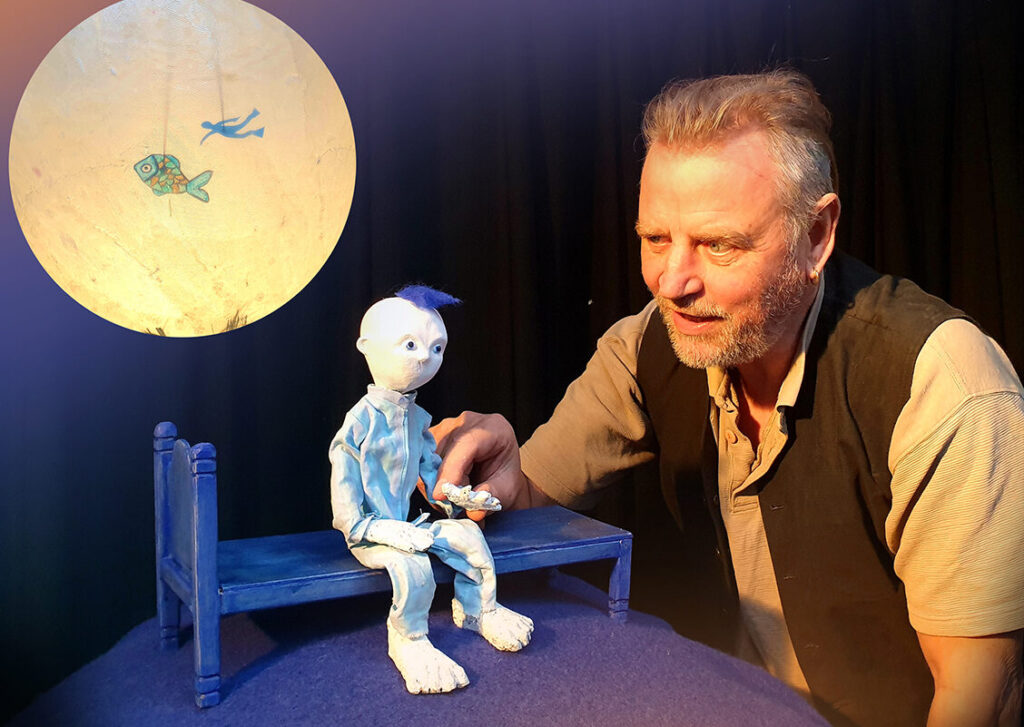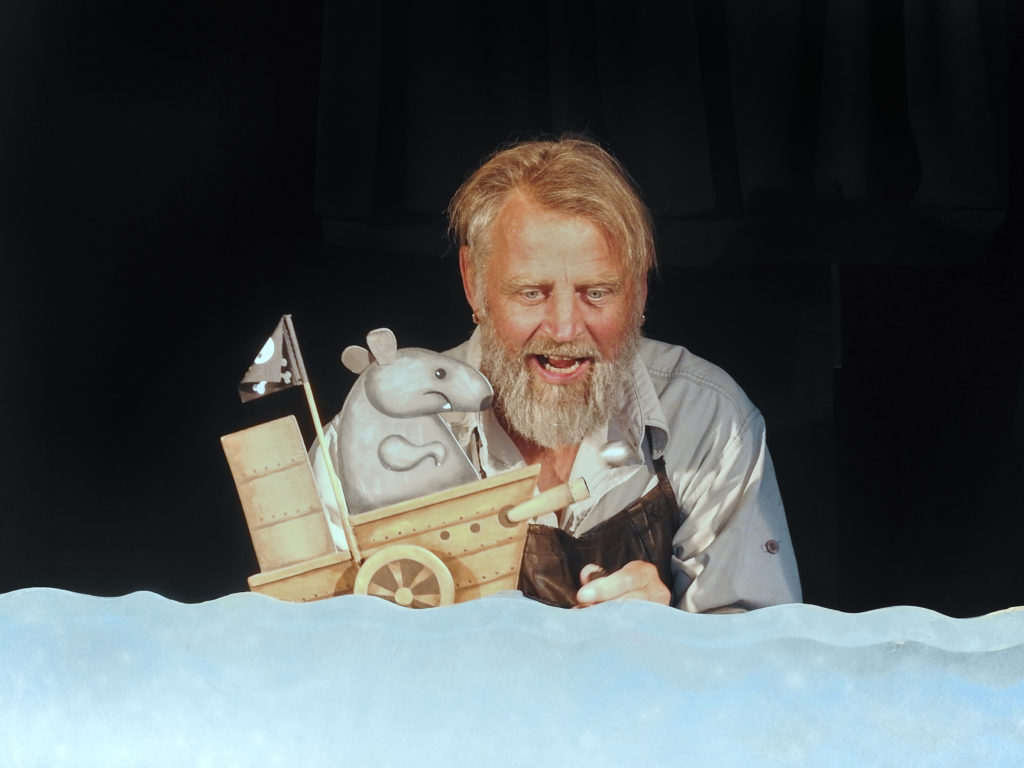 BLUE CHILD
From  1 -5 years and their adults
Ready for the season 2020/21
The blue child wakes up one morning in his bed on the blue planet. He sees a door that is not usually there. "Strange," the child thinks, "a door?" And the child decides to walk through the door. The door leads out into the big world where the child encounters a teasing seal on the ice, the Fire Soul in the earth heathen inner and other colorful creatures. It will be a long, grueling day when he can finally go to bed, a lot of excitement richer. The performance is about colors, about experiencing, sensing, learning and about finding one's identity. It will be a journey far and wide on the blue planet that turns out to be a colorful world.
Duration: 35 minutes
CREDITS
Actor: Peter Holst
Director: Simon Boberg
Scenography and Light: Pernille Plantener Holst
Scenography: Sanne Mejse Ystrøm
Sounddesign: Janus Jensen
Price without VAT:
7.000 DKKR for a max. 50 audiences
8.000 DKKR for a max 60 audiences
9.000 DKKR for a max 80 audiences
Play area: 4m x 4m x 2.5m (w-d-h)
Set-up time: 1.5 hours
Take-down time: 1 hour
Technical specifications: 230 V, Blackout
PRACTICAL INFORMATION
Peter Holst arrives about 1 hour before the show unless otherwise agreed.
Peter does not need any helpers to carry, but he requires access to an electric wheelchair.
The organizer provides chairs/seats/pillows for the audience.
Likewise, the organizer arranges for all location expenses.
The playing area is: width: 4m and depth: 4m and height: min 2.50m
The performance can play both in small and large rooms.
There is a need for access to a regular socket: 230v 10 amp.
The show needs darkening.
He takes his coffee black 🙂
THE STEADFEST TINSOLDIER
From 2 - 5 years and their adults
Hans Christian Andersens classic tale of the steadfast tin soldier who dreams of love and the beautiful dancer and being blown away by fate, yet get what he wants most of all.
This is a show without words, so everyone can join.
Duration: 35 min.
CREDITS
Actor: Peter Holst
Music: Fredrik Lundin
Manuscript and Director: Jacques Matthiessen
Scenography and dolls: Alia Torik
PRICE without VAT
7.000 DKKR for a max. of 50 audience
9.000 DKKR for a max. of 80 audience
Play area: 4m x 2m x 2.2m (w-d-h)
Set-up time: 1.5 hours
Take-down time: 1 hour
Technical specifications: 230 V, Blackout
PRACTICAL INFORMATION
Peter Holst arrives approximately one hour before the performance unless otherwise agreed.
He does not need any helpers. However, if there are stairs, he would like a hand.
The organizer provides chairs/seats/pillows to the audience and will keep all location expenses.
The play area is W: 4m, D: 3, and H: 2,2m.
We need acces to a standard wall outlet: 230V 10amp.
The show needs darkness but does not require total blackout.
He takes his coffee black 🙂